About Us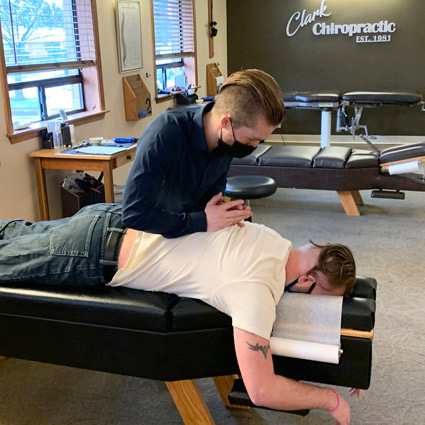 Dr. Stephen Clark opened Clark Chiropractic in 1983. Over the years, he's supported the health of Silverdale and Bremerton residents with natural care. His sons, Dr. Drew Clark and Dr. Chase Clark, join him in practice. Their chiropractic family is the largest in the state, with 12 members who are chiropractors!
Pain Relief and Wellness Care
We welcome all ages of people to our chiropractic office. Have you been suffering from a problem for years? Do you feel like you've explored other avenues without success? We love to work with chronic and challenging cases. Whether you've had a recent motor vehicle accident injury, been plagued with an issue for decades or want to maintain your health, we're here for you.
Along with offering chiropractic care, we provide cold laser therapy, massage therapy and spinal decompression to serve as a complement to your healing.
New to Chiropractic?
If you're new to us, you might be wondering about the types of concerns we can help. We're fortunate to have been a part of the healing journey of numerous people in our community. Often, our patients have scheduled surgery and seek our help as a last resort. Many have been able to avoid that surgery thanks to chiropractic.
Our patients are often new parents whose baby isn't sleeping during the night or producing bowel movements as they should. They might be spitting up or crying frequently. Chiropractic can help a broad array of problems. If you prefer a lighter touch, we can accommodate you with our low-force, instrument-based techniques. They even work for people who have had neck surgery with plates implanted.
MEET THE DOCTORS »
Book Your Free Consultation
You can learn more without cost or obligation. Contact Clark Chiropractic today to schedule your free consultation! We have late opening hours and accept insurance.

About Clark Chiropractic | (360) 692-1178