Clark Chiropractic Reviews
What Our Silverdale Patients Say

At Clark Chiropractic we love when patients share with us their feedback and comments after chiropractic care. Please read our patient testimonials below to see what other people have achieved through their tailored treatment plans with us.
Share your stories too! Click here to send us your feedback so that we can help to spread the word about the benefits of natural Clark Chiropractic care.
For more information or to schedule an appointment call or email us today.

I Am Feeling So Blessed
I am feeling so blessed. My visit today was an answer to prayer. I have been dealing with constant pain in my right leg for a very long time. After my visit I was able to walk somewhat normal without PAIN.
– Veronica S.
I Love the People Here
I have been coming here for nearly 10 years. Every ache, element or complaint was addressed and relieved I love the people here and will continue to come for another decade!
– Grace
I Feel So Much Better
When I came to Clark chiropractic I experienced pain all day every day Dash sciatic nerve pain, hip, neck and back. I feel so much better and don't experience pain as an all-day event!
– Ana D.
Wonderful Experience
The staff was incredibly kind and helpful! Dr. Drew Clark was wonderful, he listened to all of my back and neck pain issues. He came up with a treatment plan and explained all details of the treatment. He knew I was in a great deal of pain and was so caring. Wonderful experience.
– Amy F.
Outstanding Experience
Amazingly professional and courteous service with a smile from the front desk clerks and an outstanding experience with the doc. He took time to fully explain everything and he improved my shoulder mobility with a neck adjustment!!
– Clayton H.
Your Help Means a Lot
Thank you for getting me in on short notice. I also appreciate the follow up appointment the morning after. I am in a decent amount of pain so recognizing that and doing what you can to help means a lot.
– Brandon O.
Super Nice and Friendly
Loved how nice, quiet, and clean the office was. Front desk staff was super nice and friendly to talk to. Chiropractor was super nice and friendly as well. Explained things to where I could understand them and understood that I was nervous for my first time at a chiropractor office. Was very gentle with me and made sure I was comfortable the whole time.
– Megan N.
I Was Feeling So Much Better
I have been dealing with hip pain for an entire year and after one visit with Dr. Drew Clark, I was feeling so much better. I feel confident that my visit plan we laid out will fix my hip and I can once again be pain free!
– Sarah S.
Thank You!
I really appreciate that when I was in serious pain not only Dr. Clark had compassion for me but also all the staff. Walking in pleading to be helped is nowhere I want to be nor anyone else! Thank you!
– Stein D.
I Was Impressed
I was impressed with the professionalism of the staff and of course Dr. Drew Clark. He was thorough, patient and a good listener. His explanations were concise, informative and focused. I am looking forward to future visits.
– Reginald M.
A Blessing
This Chiropractic office was a blessing to me when I went in with excruciating pain. They saw me immediately and helped my back tremendously. The ladies in the front are so helpful and friendly! The doctor was wonderful! Thank you so much, God bless you all!
– Rebecca J.
Smiles, Compassion, Kindness…
I genuinely appreciate the smiles, compassion, kindness, and the doctors focus on the patient. I found Dr Drew Clark to be very present with me during our discussions and adjustments. The Clark practice truly empowers their patients on their journey of whole body wellness.
– Brandon B.
I Felt Relief
I was experiencing quite a bit of discomfort. After my first treatment I experienced a good amount of relief, my daily activities didn't feel so hindered for the rest of the weekend. I was also able to fall asleep easier instead of being restless due to pain.
– Roseanna C.
I Appreciate Very Much
Really quick to get me in on short notice. I was experiencing a lot of pain, the staff was so nice, so quick and I appreciate Clark Chiropractic very much!! Will definitely refer them to other friends and family!!
– Scott S.
Friendly Staff and Great Doctor
I was being seen at a different local chiropractic office. I felt like I was not getting the guidance I needed to get better, was not feeling listened to and appointments were rushed. I started interviewing for a new chiropractor. I scheduled consultations with three offices. I then met Dr. Drew Clark and had a great experience! I immediately said "your my choice" and started that day. Friendly office staff was also a huge plus and helped me make my decision. I am feeling better in just a few treatments and am so happy I found this chiropractic team.
– Tracy M.
Feel So Much Better
I feel so much better than when I came in!
Dr. Clark
was able to address all of my problem areas and the pain is much reduced and address areas I didn't even realize were bothering me. He also addressed a previous wrist injury that causes so much pain. I can't believe how much better I feel after my visit and can't wait to continue care.
– Alyssa G.
Feeling So Hopeful
Great experience. I am switching chiropractors not because I do not like my current chiropractor but because my current chiropractor is 70 miles away. I came to clark because it was closer to my house and had great reviews and was voted best in kitsap county. I am happy to say after my first appointment my back feels soooo much better. I am very hopeful that I have made the right choice in coming here to clark because I slept good for the first time in a long time. Thank you for seeing me and for giving me hope that maybe i do not need surgery.
– Jorge S.
Looking Forward to More
Thank you all for being warm welcoming yet very professional and knowledgeable. I look forward to receiving care from you!
– Gaylene M.
I Am So Stoked!
I have been 2x's now. I was skeptical after my first visit my pain really wasn't any different but I did go home and sleep almost 10 hours without moving. Dr. Clark (the son) wanted to see me again in two days. I was really contemplating and thinking maybe I just needed a massage for my extreme shoulder pain due to cartilage. I decided to give it another try. This morning I woke in the least amount of pain I've had in months!!! I am so stoked! My daughter will be seeing him today for years of scoliosis pain. Looking forward to getting this issue more relieved through some more visits! He also gave me hope that we can at least start alleviating the pain and working it out so my shoulder gets the right blood flow and energy to heal!! Thank you Doctor Clark!
– Jodi M.
Clean Office, Very Helpful, and Professional
Clean office, very helpful, and professional as you walk in. Dr.Drew Clark was extremely attentive and spent all the time I needed to gather the info from me and to answer my questions. This was my first visit to Clark Chiropractic and I have just finished my second visit. A+ A+
– Susan L.
They Are The Best!
I am actually a long-time patient of the Clark family Chiropractors. And over the decades I have used chiropractic, I have received the most relief from these practitioners. They keep up-to-date on modalities and are not afraid to venture outside the norm. I worked with them after a car accident and the problems are completely resolved. I have a lot to compare them to, and they are the best.
– Kristin O.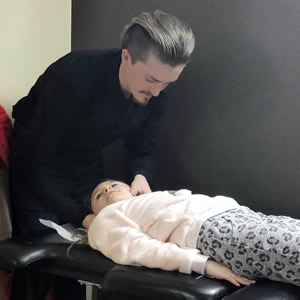 Our First Go-To for All Health-related Issues
Zoe has been getting chiropractic adjustments regularly since she was a newborn. Dr. Clark is our first go-to for all health-related issues she's ever had. Having them to turn into meant the world to us.
– Karen S (Zoe's Mother)
I Am Amazed
I had heard several people out in the community mention Dr. Clark. Stating that he had worked miracles on them and that I must go give him a try. My case was pretty difficult. I had extreme lower back pain and my right leg was dragging. I was unable to do the things I normally could do and was getting to the point where I couldn't deal with the pain any longer.
I was very impressed with the thorough physical examination performed by Dr. Poole. He was very particular and well educated with the in's and out's of how my body was functioning and why I was experiencing those symptoms. Dr. Clark was able to get me out of that extreme pain and help me regain my mobility. His adjustments as well as his efforts to educate me on proper care have been key to my recovery. Clark Chiropractic are friendly and encouraging to me. I am amazed at the improvements I have seen in my condition. I would recommend Clark Chiropractic to all my friends and family!
– Catherine C.
Caring for Me for Five Years Now
Chiropractic care is essential to whole-body health for me and Clark Chiropractic has been caring for me for five years now. All three doctors are excellent. They listen to you and discuss whole lifestyle wellness. They really care about their patients and treat us like family!
– Julie
I Have Been Pain-free in Three Visits
I had Chris September 2009. I was under the care of another chiropractor for five years and my right hip hurt due to the birth. I would wake up all night in pain. A friend of mine is seeing Dr. Clark and getting amazing results. I switched and in three visits I have been pain-free! My rotator cuff was healed in seven laser sessions! Versus my MDs recommendation of surgery. My chin has a huge hematoma and my teeth were not touching. Dr. Clark made my teeth align and has greatly reduced swelling. I am now back to one chin after to laser sessions. I cannot say enough how much we appreciate Dr. Clark!
– Sandra N.
Chiropractic Keeps Me Going
I've been coming to Clark Chiropractic for over 20 years. I rather go there then a regular doctor. Most Dr. tell you to rest. I am one of those that hate laying around doing nothing. Chiropractic keeps me going.
– Linda R.
What a Miracle I Thought…
After 30 years of suffering with constant pain and four surgeries for Spinal Stenosis, a friend took me to see Dr. Clark. I had never been to a chiropractor before and was doubtful, because I have been told by my spine surgeons not to go to a chiropractor, but I was in so much pain that I was ready to try anything.
Read More About Sandra's Story
Much to my surprise, after just one visit, I saw an obvious improvement. My back pain was greatly reduced. I could hardly believe it! I walked very carefully for the next two days thinking I might do something to make the pain come back. But at the second visit not only had the major back pain NOT returned, but all the other pains in my neck, legs and hips also disappeared!
I still wonder how that little machine could take away all that pain I had been suffering with all these years. Now after just a few short weeks, I can walk farther and stand longer than I had in 20 years. I also have more endurance. What a miracle I thought…. I am still marveling at the fact that I can reach, bend and lift without pain. I am now doing things that I had not done in years. How I would love to tell those surgeons that I have found a much better way to live than spending 12 weeks at a time recovering from their surgeries which only lasted a few weeks before the pain returned. Believe me, I am completely sold on Dr. Clark's chiropractic procedures that have given me a new lease on life.
– Sandra R.
Everyone was Very Caring and Thoughtful
Great staff! Everyone was very caring and thoughtful. Dr. Drew Clark was helpful with letting me know his findings and what would be the best way to start fixing me up, also gave me some at home stretches to help with the pain I was having. The front desk was stellar, I was able to work around my hectic schedule and not make me feel like I would have to wait weeks to be seen again. I adore all the staff and honestly, I can't wait for my appointments!
– Melissa L.
Different Than Others
I came into Clark Chiropractic with a pain level of ten. I had tried everything to adjusting my diet and taking medications. Nothing worked; I had hit a brick wall. A friend of mine referred me to Clark Chiropractic, and after two years of living in pain I decided to go. After my first visit, my pain was reduced to half of what it was before I went. As I continued care, I significantly improved in less than two weeks. This Chiropractic office is different than others I have been to; the doctors not only adjust me, they educate me too! I never feel pressured and I like how the doctors tailor their care to fit my individual needs.
– Laura V.
Both Clarks are Very Knowledgeable
From the moment you step in the front door, you know your experience is going to be great. Everyone is warm and kind. Both Clarks are very knowledgeable and able and have helped me feel better for many years from my neck shoulder low back issues.
– Kari
I Trust and Recommend
It all started a couple of years ago when my friend had been ranting and raving about Clark Chiropractic. I came in a couple of times with her but it wasn't until I slipped and fell and hit my tailbone on a rock that I came in for myself. I knew I didn't want to go to the hospital and be put on medications and be told to just rest. So I called Clark Chiropractic and made an appointment that night. Dr. Poole was able to see me at 5pm on a Friday night! No other chiropractor was open or taking any patients at that time of the evening. I was in so much pain, unable to sit, and hardly walk. After just one quick adjustment, I got that immediate relief that helped me get through the weekend.
Read More About Michelle's Story
By Monday, Dr. Clark and Dr. Poole had me in for a full exam, x-rays and adjustments. They were able to identify a source of my major lower back pain (spondylolisthesis) that I had for years. Both doctors were surprised at how I had lived with this condition for so long. I had been to many doctors that had just wanted me to go get surgery right away stating it was the only way to deal with and/or fix this issue.
I decided to come here to Clark Chiropractic and was able to get the beneficial for over 2 years and hold off surgery until it was absolutely necessary. Dr. Clark was able to restore warmth and nerve feeling to my numb, cold and tingling legs. I was also able to continue with all my normal work duties such as pushing, pulling and lifting patients. I have been coming here for years and believe in all the different ways and methods offered here. From Impulse adjustments, to Cold Laser Therapy, to good ole fashioned manual adjustments.
I have told many of my friends and coworkers about this place and the benefits of chiropractic care. I trust and recommend these Doctors and their staff any day! I even bring my children here to get their care as well. This is more than just a place where doctors crack your back; this is a WELLNESS CENTER, where they care about your well being through all different facets.
– Michelle G.
Helped My Husband & I Get Moving
A year ago we came to Dr. Clark because my husband's hip was hurting him. I also had neck pain and back pain. Dr. Clark was able to get us moving well and our bodies aligned again. Dr. Clark is like a miracle drug, he makes you feel so good you keep coming back. My husband has broken his neck twice, broke several bones and had a stroke 28 years ago. It's amazing how well he feels after seeing Dr. Clark for a year! We have referred several people to Dr. Clark and would tell anyone to go see him; he is wonderful!
– Chigbrows
Happy I Came in for Care
One of my coworkers was in a car accident and had been rear-ended severely. She had asked around and found out about Clark Chiropractic. After seeing her go to Dr. Clark, I was able to see how much he helped her. She was feeling so much better and able to move about a lot more. I had also seen my wife get treated by Dr. Clark as well. She would constantly tell me about all the things he was helping her with and how she was able to live her normal life again with his help (adjustments). So, after a couple of years of hearing all the people around me brag about him, I finally decided to go in and see him for myself. I work alot and am very hard on my body, so none the less I was experiencing a good amount of lower back pain and in. I felt a big difference right away! It was like day and night! I could move better, the pain dropped immensely, and i finally felt some relief. And best of all since I've been seeing Dr. Clark the pain went away and has stayed away!
– Anthony S.
Help for Back, Arm, and Hip Pain
Ever since I had my son, I had severe back, arm and hip pain. I have always just lived with the pain because I am very skeptical of chiropractors. One day, I decided to take a chance and call Dr. Clark's office. They got me in the same day, took x-rays, and found that my hips and neck are not how they are suppose to be. Now months later, I have shown fast improvement in my overall health and in my running. Dr. Clark also helped educate me on my well-being and health. He is a miracle worker; he proved to me that I don't have to just live with the pain!
– Nicolle G.
You Won't Regret Care
Since the fall of 2011, I have received chiropractic care from Dr. Stephen Clark for recurring neck and lower back pain. The care Clark Chiropractic provides includes manual and mechanical adjustments, massage therapy, and the use of chiropractic tools to aid in successful treatment and recovery. The doctors provide a dynamic, personable experience with each visit. They take the time to explain what they feel and see, how they want to proceed with the treatment and why the approach will benefit my condition. I always get greeted each visit with a smile and a hello; the clinic staff is very professional and courteous. The environment inside the clinic is comfortable and welcoming. With numerous choices in the country for neck and back care, you will not regret the decision to visit Clark Chiropractic!
– Scott D.
Positive Results
I have been to several chiropractors before going to Clark Chiropractic, and have never had the positive results that I have had. My body has had many injuries, and Dr. Clark and Dr. Poole have been able to relieve my chronic pain. Whenever something is out of place, I know I can come here and the doctors give me the relief and knowledgeable empathy. They address the immediate problem and I am always impressed with the speed of recovery. I would highly recommend Clark Chiropractic to anyone; they are wonderful!
– Karen W.
Help After Car Accident
I finally came to see Dr, Clark after hearing my friend Diana rant and rave about him for so long. I was also involved in a car accident. I came in with severe lower back pain and couldn't move my neck very well. Dr. Clark was able to get me out of the pain and help me get my movement back. He has a gentle feel about him and his staff is the friendliest group of people you'd ever want to be around. They are all so welcoming and always greet you with their smiles. I would recommend Clark Chiropractic to everyone. I drive all the way from Grapeview to come get adjusted because it works. I am now able to go upstairs and all over the place without stopping due to pain constantly. I truly thank him for all that he has done for me.
– Mary M.
Above And Beyond
The entire staff was above and beyond with ensuring I felt welcome and taken care of. Dr. Clark was exceptional. He listened to my needs and thoroughly explained everything before doing it and while doing it. I left after my first appointment with corrections to my body and I felt the best I've felt in years. Everything made sense from the explanations and I already can't recommend Clark Chiropractic enough! I can't wait to see my progress through my next appointments.
– Bailey M.

Clark Chiropractic | (360) 692-1178